'What makes VanHomes different?'

Using innovating designs and material combined with quality workmanship, Vanhomes is on path to be Australia's preferred choice as a supplier of portable housing. Our innovative design means that our homes are built onto a chassis with wheels, which can be located anywhere in Australia. Other modular homes arrive and need to be craned into place, meaning expensive installation fees.
Our VanHomes are ONLY granny flat/secondary dwelling that is able to be used for ALL of these applications:

Granny Flat

Workers Accommodation
Emergency Accommodation
Weekend Home
Retirement Home
Disaster Relief Housing
Holiday Home
Beach Cabin
Caravan Park Cabin
Fishing Shack
Mobile Home
We know what you're thinking, how is it possible for our product to fit ALL of these applications?
The reason for this is because our VanHomes are legally registrable caravans. This means that they don't have to comply to the Building Code of Australia (BCA Standards). Our homes don't require ANY building approval, as they're built in our factory and transported to your location. Here are some benefits you can have from choosing Vanhomes compared to other secondary dwellings:
Can be sited in flood-prone areas
Can be sited in bushfire-overlay areas
Minimal site disruption
Transported as easily as a caravan
'Seriously - what's so great about a Vanhome?'
100% relocatable

- Our homes are built onto a towable chassis, with fully functioning wheels, brakes and lights. Should you move, we can relocate your home anywhere you'd like!
No BA Approval

- Our product is a legally registrable caravan, and is legally able to be sited without a building application.
BCA compliance

- As our product is a legally registrable caravan, it can be sited in flood prone and fire prone areas without needing to comply to the Building Code of Australia.
Size

- Our homes range from 17-60 squared meters! To put this into perspective, the average size of a Sydney apartment is 42 squared meters!

Here is a sample of our 2 bedroom expanding model. It's hard to believe that this fully functioning home is completely relocatable, but trust us, it is!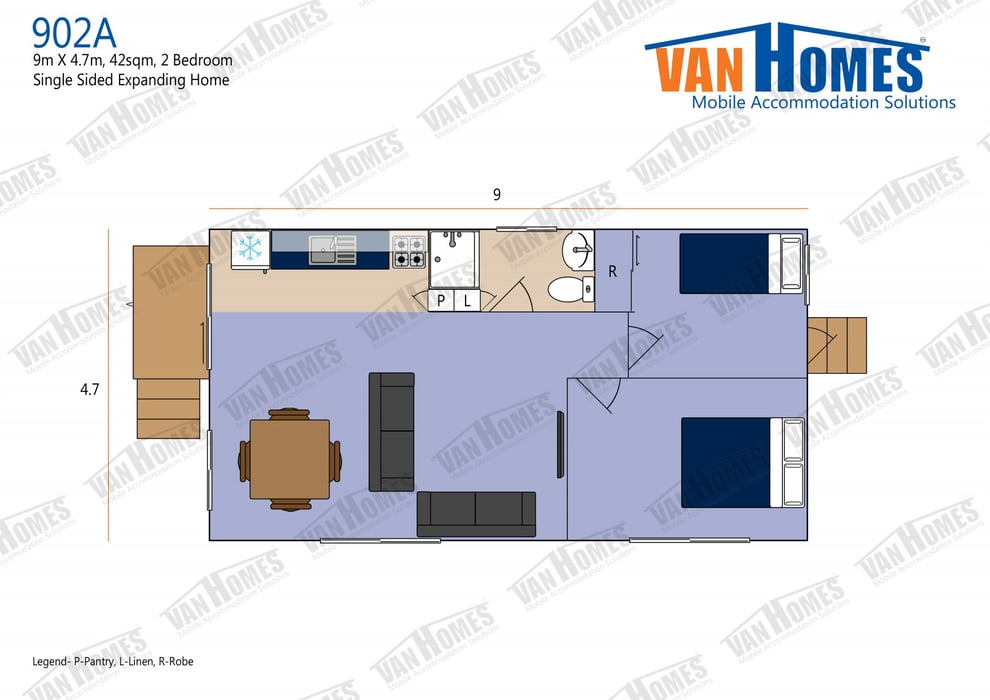 Granny flats are a great option to get the most out of your back yard whether it is a home for elderly relatives who still want their independence but want the support of family close by, young couples who are saving for a family home or you just need extra room for a growing family. While at the same time you increase the value of your property.
'Wait, how is that even possible?'

We thought you'd never ask! Our innovative design makes all of the above possible and so much more!
Our homes arrive in a 2.4m wide towable structure and is folded out onto legs. It is able to be set up in only half a day! Below is an animation of how our product is expanded into a fully functioning, two bedroom home.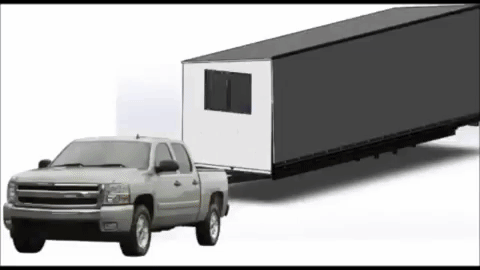 Whether you're seeking a Granny Flat, Workers Accommodation or just a Weekender, Vanhomes is an easy choice. Give us a call for an obligation free chat on your requirements, and experience for yourself why so many people have made Vanhomes their choice.